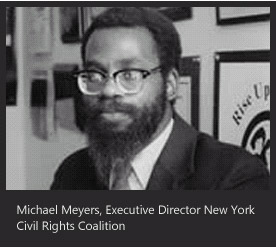 Michael Meyers is President and Executive Director of the New York Civil Rights Coalition (NYCRC), which he co-founded in 1986.
Meyers assumed the post of NYCRC Executive Director in 1991 from his senior staff position in the New Jersey Department of Higher Education, where he had served as Special Assistant to the Chancellor of Higher Education, T. Edward Hollander. Meyers took his B.A. from Antioch College in Yellow Springs, OH and his J.D. from Rutgers University School of Law. He has spent his entire professional career working in the fields of civil rights, civil liberties, law and education, and urban affairs, and, as such, is regarded as an expert on civil rights matters and race relations. Born in Harlem, Michael Meyers knows first-hand the ghetto experience which, as he puts it, "contributes to the defeat of the human spirit; the only way to end the ghetto is to get out of it."
A long-time associate and protégé of the noted educator and psychologist Dr. Kenneth B. Clark, Michael Meyers was from high school through law school Dr. Clark's intern, fellow and principal assistant while Dr. Clark headed the Metropolitan Applied Research Center (MARC), from 1967 to 1975. In 1975, Meyers joined the national staff of the National Association for the Advancement of Colored People (NAACP) as Assistant Director. For more than nine years he was on the staff of the NAACP as aide to another of his mentors, the venerable Roy Wilkins, the NAACP's long-time Executive Director, and to Wilkins' successor, Benjamin L. Hooks. Meyers shares Dr. Kenneth Clark's and Roy Wilkins' philosophical outlook on civil rights and equal justice. Indeed, Michael Meyers has emerged in the New York and national dialogue about race as a strong advocate of civil rights, racial integration, and racial reconciliation.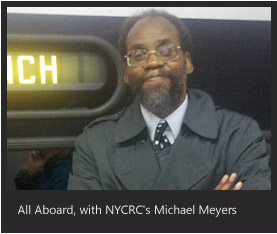 Michael Meyers, as a columnist for THE NEW YORK POST, has published extensively on issues of race relations, urban affairs, education, housing, police abuse, civil liberties and civil rights. His articles have also appeared in law reviews, scholarly journals, periodicals and newspapers, including PARTISAN REVIEW, ACADEMIC QUESTIONS, YOUTH AND SOCIETY JOURNAL, CRISIS, CHANGE, INTEGRATED EDUCATION, THE NEW YORK TIMES, THE LOS ANGELES TIMES, THE WALL STREET JOURNAL, THE WASHINGTON POST, THE WASHINGTON TIMES, CHICAGO TRIBUNE, THE CHRISTIAN SCIENCE MONITOR, NEW YORK DAILY NEWS, NEWSDAY and NEW YORK NEWSDAY, and CIVIL LIBERTIES. He helped research and assisted with the editorial preparation and writing of the explosive book SEARCH AND DESTROY, by Roy Wilkins and Ramsey Clark, and with Morris Milgram's book, GOOD NEIGHBORHOOD.
A frequently invited speaker, Michael Meyers has addressed many forums and conferences and keynoted several conventions; he has spoken at many colleges, universities, and law schools, including Bryn Mawr, Brown, Case Western Reserve University Law School, City College, City University of New York, Columbia College, and Teachers College at Columbia University, Lehman College, City University of New York, Stanford, U.S. Army War College, Westpoint Military Academy, Wilberforce University, Williams College, and Villanova Law School. He has also been a guest panelist on numerous radio and television programs, including, "Good Morning America," "David Susskind," "Positively Black," "Like It Is," "Oprah Winfrey," "McLaughlin," "Sunday Edition," "News Forum," "Live Wire," "Currents," "Caucus: New Jersey," "Charlie Rose," "MacNeil/Lehrer News Hour," and "America's Black Forum."
Meyers' past committee and board memberships include the American Bar Association's Special Committee on Housing and Urban Development; executive committee/board of directors of Sponsors of Open Housing Investment, Inc.; and National Child Labor Committee, Inc.; board member of National Alliance for Safer Cities; Center for the Advancement of Integrated Education; and the New York Association of Scholars. Michael Meyers served on the Board of Directors of the New York Civil Liberties Union (with perfect attendance) for a quarter of a century (between 1976 and 2001), and on the National Board of Directors of the American Civil Liberties (also with perfect attendance) for 24 years (between 1981 and 2005). He was a longtime member of the ACLU's Executive Committee and served on many other ACLU committees, including its Affirmative Action Committee; Academic Freedom Committee; Free Speech and Association Committee; Equality Committee; and several Biennial Conference Committees. In 1999, he Chaired the ACLU's Biennial Conference Committee and its Convention in San Diego, CA.
His other board service has included membership on the Advisory Board of the then Washington, D.C.-based Center for Equal Opportunity; the Philadelphia, PA-based Foundation for Individual Rights in Education (FIRE); and The City Club of New York. In addition, Michael Meyers has also served on the Board of Directors of the America-Israel Friendship League, and on several of its committees, including its board's executive committee.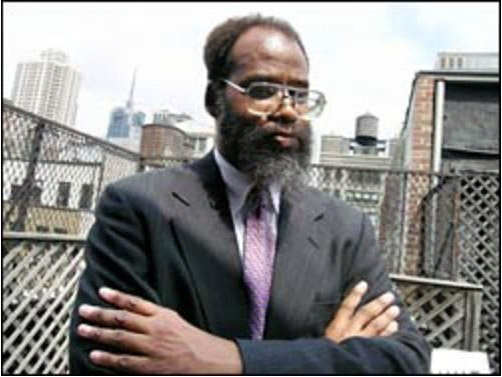 NYCRC's executive director Michael Meyers, responding to a reporter's questions.